City Leadership
The governing body of the City of Napoleon consists of a six-person City Council (Aldermen) and the Mayor.
Aldermen hold offices for four years and until their successors are elected and qualified. The terms of the Aldermen are arranged so that only one-half of the Aldermen are elected in any one election.
The chief executive officer of the City is the Mayor. The Mayor holds his/her office for four years and until his/her successor is elected and qualified.

Monthly City Council Meetings
Held on the first Monday of the month 7:30 pm at City Hall

Mayor
Todd Moos
Auditor
Colleen Fettig, email.
Municipal Judge
Paul Hamers
City Council Members
Debbie Sperle
Dawn Foster
Rod Kleppe
Shawn Moch
Jon Starkey
Laura Henry
Napoleon City Hall
225 Lake Ave W.
P.O. Box 31
Napoleon, ND 58561
(701) 754-2266
napoleoncity@bektel.com

Napoleon Park Bard Members
Laura Henry
Mary Schwartzenberger
Kevin Wolf
Amanda Hayen
Kriss McCleary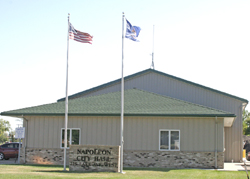 Napoleon City Hall
Click on the image for a larger view.
TDD: 1-800-366-6889
*The City of Napoleon is an equal opportunity provider & employer.