City Leadership
The governing body of the City of Napoleon consists of a six-person City Council (Aldermen) and the Mayor.
Aldermen hold offices for four years and until their successors are elected and qualified. The terms of the Aldermen are arranged so that only one-half of the Aldermen are elected in any one election.
The chief executive officer of the City is the Mayor. The Mayor holds his/her office for four years and until his/her successor is elected and qualified.

Monthly City Council Meetings
Held on the first Monday of the month 7:30 pm at City Hall

Mayor
Todd Moos
Auditor
Colleen Fettig, email.
City Council Members
Arron Marquart
Rod Kleppe
Bob Humann
Clark Haas
Rich Bjerklie
John Wald
Napoleon City Hall
225 Lake Ave W.
P.O. Box 31
Napoleon, ND 58561
(701) 754-2266
napoleoncity@bektel.com

Napoleon Park Bard Members
Amanda Hayen
Mary Schwartzenberger
Kevin Wolf
Kriss McCleary
Bridget Piatz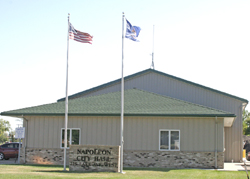 Napoleon City Hall
Click on the image for a larger view.
TDD: 1-800-366-6889
*The City of Napoleon is an equal opportunity provider & employer.
Mitigation Plan Draft
Available for Review
The draft of the 2022 Logan County Multi-Jurisdictional Multi-Hazard Mitigation Plan is now available for review on the Logan County and City of Napoleon websites. A printed copy is also available at the Logan County Courthouse in the emergency manager's office.
A public hearing to accept comments on the draft plan will be held from 7:00 to 7:30 p.m. on Monday, August 22, 2022, at the upstairs meeting room at the Logan County Courthouse in Napoleon, North Dakota. The public hearing will review the draft plan, results from the mitigation survey, and public comments received. The public hearing will officially close at 7:30 p.m. and will be followed by a Steering Committee meeting immediately thereafter.
Steering Committee will review public comments received and participation by local jurisdictions and approve the draft plan to be submitted to the N.D. Dept. of Emergency Services (NDDES) and the Federal Emergency Management Agency (FEMA) for approval. Once the plan receives approval pending-adoption, each incorporated jurisdiction included in the plan must pass an adoption resolution before an official approval letter from FEMA is issued.
To submit feedback or a comment on the plan, please contact Logan County Emergency Manager Daniel Schwartz 701-989-7970;loganem@nd.gov.